Paganini's Portrait - Classical Music and Painting as sister Art forms by Irma de Jong Where do we find similarities between classical music and the art of painting? We take inspiration of an oil portrait of Niccolo Paganini, based on a drawing of Ingres and...
read more
Conducting technique; an introduction by Gianmaria Griglio According to some,  conducting technique  - just for clarity, I'm referring to orchestral and not choral conducting -  it is a debatable point. Conducting technique has been the subject of numerous discussions...
Interview with Grammy Award winning producer Fine about composing We asked composer Michael Fine: when did you discover your vocation for composing: "I began composing four years ago. Although the act of composition was prompted by my wife's diagnosis with Multiple...
A reflection about classical music by Mattia Rondelli Mattia Rondelli is a young  Italian conductor,  who had already many occasions to work on opera concerts, and he is passionate for the Italian composer Giuseppe Sarti. Being asked about the perspective of which...
Diary of a composer by Matthias Kadar - video 3 - the opinion of "very" young students about the Cello Concert composition Welcome to the new episode of Matthias' diary about his composition making. Matthias Kadar is the author for Cicerone of a beautiful composition...
Matthias Kadar's "Diary of a composer" - video 2 - the railroad of inspiration Welcome to the 2nd episode of Matthias's composition making diary. Today he's on the train,  thinking, writing and building the main themes of his Cello Concerto. Matthias is a very...
Matthias Kadar's "Diary of a composer", with his adventure into a new composition making - step by step monitoring - video 1 Here starts a new exclusive series from Cicerone Music & Art. As many know, Matthias is one of our authors for interactive courses (see...
John Philip Sousa (1854-1932), also known as 'The March King' is considered being the first composer of classical music born in the USA. During his lifetime, he was a very popular American musician and interesting enough he started his musical career playing the...
Astor Piazzolla inspired Federico Favali's "Astor and me" (video) Federico Favali accepted to give us some explanations about his connection with Astor Piazzolla. In fact, he composed a piece inspired from Piazzolla's "Inverno Porteno". In the video below, he talks...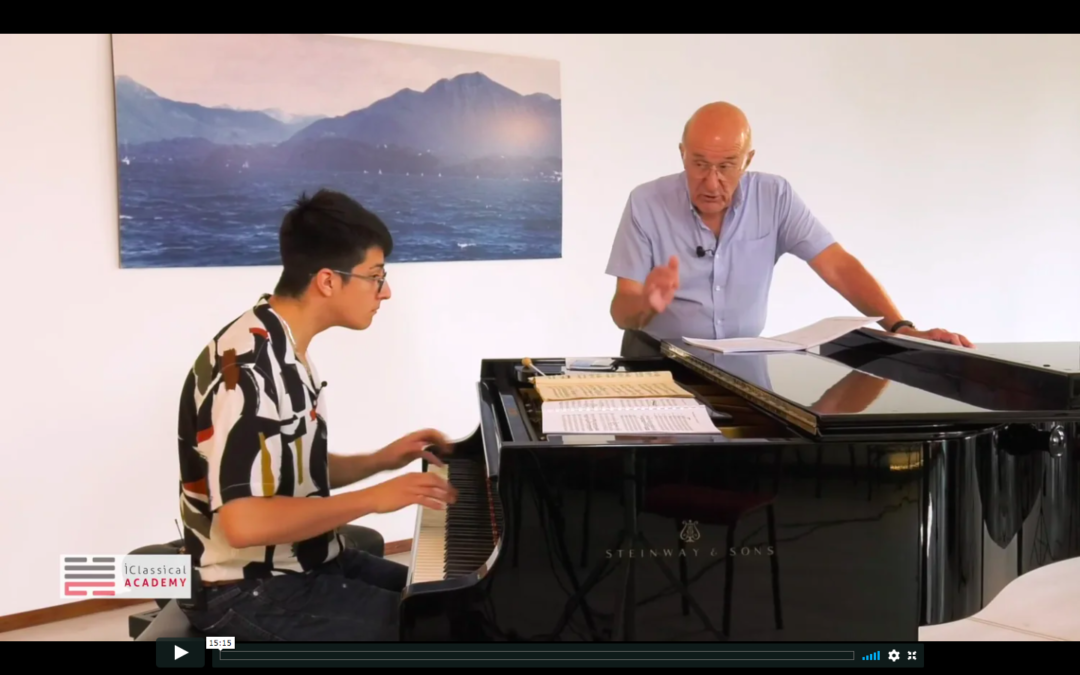 Online Music Education, the new normal? Effectiveness of Online Music Lessons by Irma de Jong We started 2020 in social distancing, which has accelerated the need and appreciation for online learning and teaching. Many musicians were forced to go online, as it...
RAVEL TZIGANE Cornerstone Lesson Review Professor Hagai Shaham explains the many topics of this genial composition, showing the parts which mainly express the typical Hungarian romantic style. For example, how to achieve the proper expression of the piece and connect...
SAINT SAENS RONDO CAPRICCIOSO ONLINE VIOLIN LESSON CORNERSTONE LESSON VIOLIN VIRTUOSO REPERTOIRE The composition by Saint-Saens "Rondo Capriccioso" is dedicated to the 18th-century violinist Pablo de Sarasate, and there's a very much audible Spanish influence in the...
BEETHOVEN SONATA NO. 23, OP.57, APPASSIONATA Beethoven himself described this composition Appassionata as one of the best he ever wrote, and it is no doubt the most celebrated of Beethoven's piano sonatas; the 1st movement, reporting the tempo indication " Allegro...
Sibelius Academy using online learning musical training Sibelius Academy, the cornerstone of Finnish music and a pioneer in online learning musical training, has long traditions. Established in 1882, the cradle of classical music education has added other genres to...
Young Musicians Now Seek Learning Variety by Paul Cassarly It's no secret that every successful musician in the world has had at least one influential teacher in their life. However, it also isn't surprising to learn that the world's best musicians have had multiple...
Classical guitar recording like a pro To learn something it's always very useful to see professionals at work. We normally write about how to record your own music at home but consider that the most efficient methods are often brought from professional experience, and...
MUSIC E-Learning evolution, latest techniques, and ultimate systems and methods Under the very renown word "E-learning" we can find several millions of articles, videos, blogs, vlogs, and many more modalities through which people communicate their knowledge to others....
Why Online Music Lessons Are So Effective by Paul Casserly With the dawn of the internet, there is now a decades-old argument as to whether or not learning an instrument or piece of music online is better, or if musicians should merely stick with the traditional...
Paganini Caprices, a devilish challenge for many violinists The 24 Caprices for Solo Violin were written in groups (six, six and twelve) by Niccolò Paganini between 1802 and 1817. As we all know, they demand a lot of technique, velocity, accuracy and precision from...