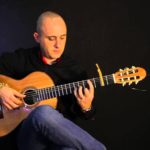 Juan Manuel Ruiz Pardo is a performer, arranger and teacher from Murcia, Spain. He arranged for the classical guitar four beautiful and legendary pop songs. "Wish you were here", for example. Generations of people grow up with this fantastic song, written by Roger Waters. Or Eric Clapton song "Tears in Heaven". A tragic incident made Eric Clapton compose this beautiful song. It was Clapton's best-selling single in the United States.
"Here comes the sun" a song written by George Harrison and first released on the Beatles' 1969 album Abbey Road. It is one of Harrison's best-known compositions from the Beatles era. To conclude the famous four, the series also includes Michael Jackson song "Billie Jean".
Juan Manuel Ruiz Pardo re-arranged them all beautifully for classical guitar. Take your chance and learn how to play it on the classical guitar. MORE
Canzone Napoletana or the Neapolitan song is a generic term for a traditional form of music sung in the Neapolitan language, expressed in familiar genres such as the lover's complaint or the serenade. Many of the Neapolitan songs are world-famous because they were taken abroad by emigrants from Naples and southern Italy roughly between 1880 and 1920. Famous tenor Enrico Caruso brought to singing the favourite music of his native city as encores at the Metropolitan Opera in New York in the early 1900s.
We thought they are too beautiful for not being enjoyed by a wider audience! So we asked Federico Favali to arrange the Neapolitan songs for the piano. The result is touching. Learn to play these songs on the piano and sing along with the beautiful melodies! Find easy refrain arrangements in the traditional Italian style. MORE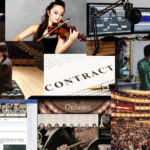 Being great at playing is not enough if you want to succeed in the music business! Being a PRO means understanding the basics of promotion and communication and learning how to choose the right media and how to use them effectively.
How to be successful in your music career? This interactive course for musicians with Irma de Jong will help you to EMPOWER. Learn all about branding, positioning, impressing and convincing promoters, organisers, and your audience! Everything you need to know to have a successful and excellent music career and to become a happy musician.
How to make your own song with Matthias Kadar. In this Interactive music composition course, you will learn how to make your own song and you'll have a lot of fun with the creator of this course, Matthias Kadar! He was born in Paris of Hungarian-German parents and is also known as the "Jacques Brel of the 21st Century".
Matthias' course is full of musical wisdom and knowledge, creativity and poems and reaches out to have you discover your creative potential. Don't wait any longer and discover MORE
"As a composer and singer, I keep looking for lyricism, atmosphere and timbre. Texts and poems play a special role: they inspire me with the sound and melody of the language in which they are written."