Neapolitan piano songs with Federico Favali
Exclusive arrangements for piano
The famous Neapolitan songs arranged for the piano by Federico Favali.
Find easy refrain arrangements in the traditional Italian style. The Neapolitan songs are available as Volume I and II or the full collection with eight songs chosen from the most famous Neapolitan compositions of all times.
Level: beginner and intermediate.
Preview
<iframe src="https://player.vimeo.com/video/311949283" width="640" height="360" frameborder="0" webkitallowfullscreen mozallowfullscreen allowfullscreen></iframe>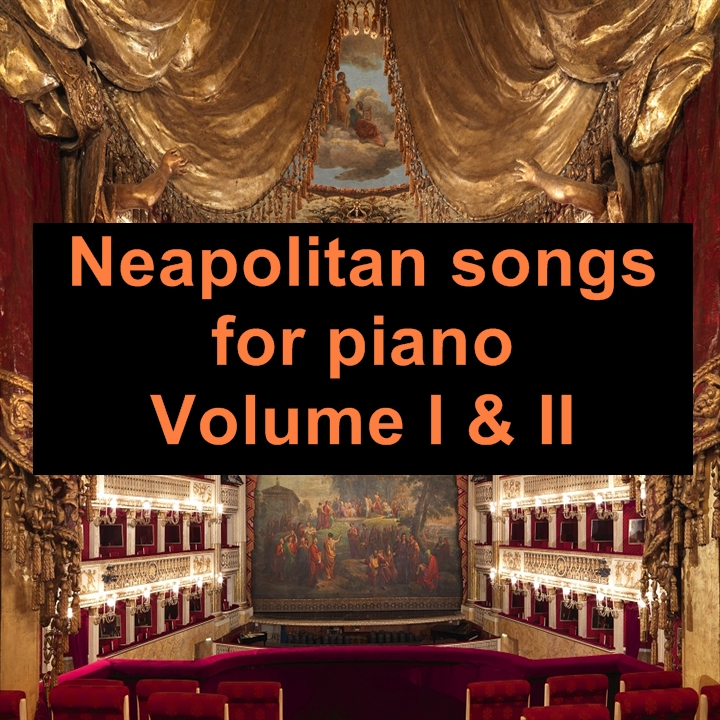 Neapolitan song ext. course Vol I & Vol II
Volume I and Ii full collections with eight songs chosen from the most famous Neapolitan compositions of all times.
Details: Running time 2h 40'
8 different songs
PDF Tabs for each song
Full-length graphic help
Exercises and tips included
Songtitles: Non ti scordar di me  / Core 'ngrato /  Santa Lucia / Torna a Surriento / I'te vurria vasà / Funiculì Funiculà / O surdato / 'nnammurato Marechiare
Federico Favali is Master in composition and Drama Art and Music. His compositions have been performed in several Italian cities, and abroad in Germany, Argentina, Paraguay, Malaysia, Korea and Japan. Federico's inspirations are characterized by the use of theatrical gestures, a special sensibility to tone colour and a particular interest in blending them.
Favali graduated in piano in Lucca and musicology at the University of Bologna (Italy). He studied composition at the Conservatory of La Spezia, King's College London, University of Birmingham and New York University.
In 2014 he received a commission from Teatro del Giglio of Lucca (Italy) for the chamber opera "The fall of the House of Usher". In 2015 he was invited to the Daegu International Contemporary Music Festival, and in 2016 to the Crosscurrents Festival (Birmingham, UK). In 2017 he led the research at "Giorgio Cini" Foundation in Venice.
Favali is also active as a musicologist. Focusing primarily on analysis of contemporary music, his writings have been published by several sites and reviews. His music is published by Donemus.