The Sousa Tribute Band
"Cheerful energy, elegance and style"
"The Sousa Tribute Band plays with a bright and open sound, in a combination of cheerful energy, elegance and style, lead by a conductor smiling to the audience and actively waving his hands to the musicians."
The Sousa Tribute Band is the only professional civil wind band in Europe specializing in performing John Philip Sousa's music (1854-1932), known as 'The March King.' The repertoire of this world-renowned composer consists of 136 Marches for military and civilian use, 11 Operettas, several works for orchestra (Suites & Tone Poems), and Dances.
Sousa was the first composer of classical music born in the USA. His father was born in Spain and his mother in Germany. During his lifetime, Sousa was the most popular and succesful American musician. The sousaphone is named after him.
Sousa's famous Marches include: Liberty Bell, High School Cadets, Washington Post, Semper Fidelis, Thunderer, Stars and Stripes Forever. His famous Operettas include: El Capitan, The Bride Elect, The Charlatan. In Sousa's Marches we can hear the sound of the 19th century Operetta and the jubilee of the marching parade. In Sousa's Operettas we can hear the early development of American Musical Theatre.
In order to keep Sousa's music accessible to a large audience, the Sousa Tribute Band consists of a small size wind band (27 musicians). This newly developed hybrid/cross-over type band is related to the Marching Band and offers tremendous flexibility. With it's all-weather instrumentation, this non-tech, unplugged and mobile wind band performs Sousa's music in it's original character, both inside and outside. The program consists of Sousa's Marches and Americana.
Founder & Music Director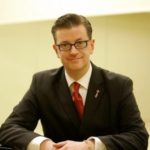 Stanley E. van Wel MM is an all-round musician with a special taste for American music and theatre. As a French horn player, composer, arranger, conductor and teacher, he brings many years of experience to the stage and classroom. Stanley studied at the Sweelinck Conservatory of Music in Amsterdam with a.o. Vicente Zarzo Pitarch (French Horn – classical music), Charles Green & Steven Galloway (jazz music; composing & arranging) and Pierre Kuijpers (conducting). After graduation, he a.o. taught at his alma mater.
Stanley performed in many orchestras, bands and ensembles throughout Europe, both on stage, for radio & television and in recording studios. His credits include several first performances as a soloist. Stanley's compositions and arrangements are performed and recorded on albums as well as for radio & television. Watching him conduct is a theatrical experience in itself.
As a young man, Stanley was already taken by the sound of American music. He studied and performed American 20th century Modern classical music, jazz music and musical theatre. Stanley founded and conducted several orchestras and ensembles, including the Stanley van Wel Orchestra and the Benny Goodman Revival Orchestra®. The Sousa Tribute Band is his next logical step in performing American music.
Management
Cicerone Music & Art represents the Sousa Band in certain areas worldwide. Contact us for more info and bookings.