FLOYD MACHINE - Pink Floyd Tribute Band
"Such an exciting event, wonderful memories and a great band. I wish to hear them again!"
FLOYD MACHINE: Pink Floyd since 1999, Vintage and technology in a show!
The Best of & The Wall show
Floyd Machine has been bringing The Best of & The Wall show to the stages since 1999. The group made it their specialty to perform on vintage instruments, adding video, light, and technical effects to present a complete show that sounds precisely like the memorable one of the original band Pink Floyd. The passion that unites the group is the inexhaustible driving force of an immortal music project. Nick Mason and Snowy White congratulated Floyd Machine on the achieved results, and Roger Waters, whom they later personally met, confirmed the artistic quality of the band.
Founded in 1999
Floyd Machine Group was founded in October 1999 by the idea of some friends, fans of the music of Pink Floyd, to form a group dedicated to the legendary rock band. Although the idea was born to create a single concert, the project went on to bring Floyd Machine performing on different stages. As time passes, the group has grown and has undergone several metamorphoses until reaching the current lineup. Today they are a highly sought Tribute Band and perform all over Italy.
Vintage instruments and light/media show
The use of vintage instruments and the search for the most similar to those sounds of Pink Floyd, combined with the projection of images on a circular screen surrounded by "moving heads," offer the public a show that reflects the atmosphere, poetry, and the typical spirit of legendary Pink Floyd.
In every concert performed by Floyd Machine, many nostalgic music lovers enjoy an unforgettable evening. Most of their events are sold out and received by enthusiastic audiences.
New Show "Dark Side of the Moon" in 2023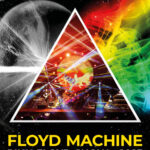 Celebrating 50 years of The Dark Side of the Moon," a tribute to the iconic album entirely live and with the continuous evolution and research of vintage instrumentation, the circular screen, the projection of films, lights, pyrotechnic effects, laser shows, has made possible the idea of an entire show in line with the memorable shows of the historic English band.
Management
Cicerone Music & Art offersl management service outside of Italy for Floyd Machine. Contact us for more info and bookings.